FreeWiFiLink NHP-628 3G Router 11N High-power 3G network ROUTERS 1000 mw compatible coverage area 3km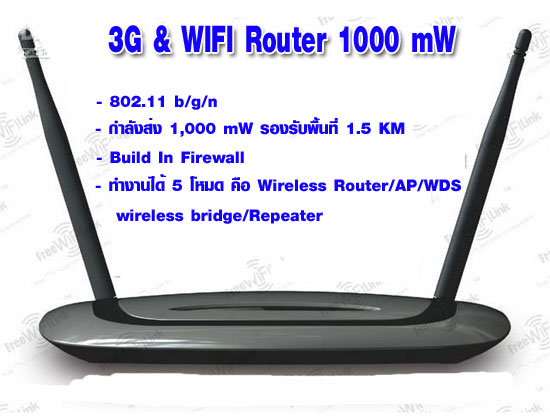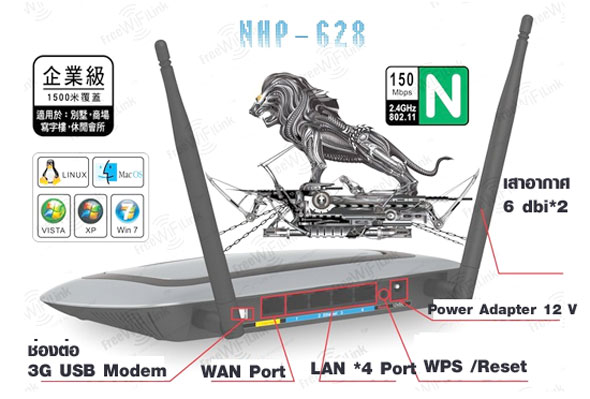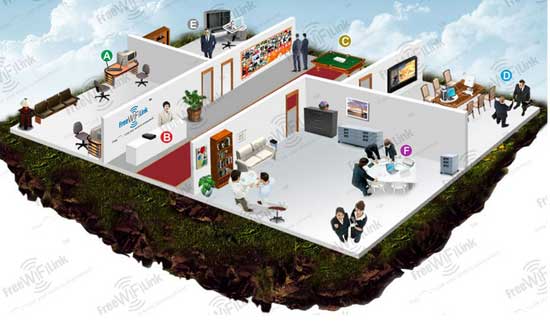 Freewifi Link NHP-628 เป็น 3G & WIFI Router ในตัว ทำหน้าที่ กระจายสัญญาน wifi และ กระจายสัญญานจาก WLAN 4 port ในแบบ hi power 1000 mw กระจายสัญญานได้แรงกว่า router ทั่วไป

1 a multi-dial functions in one: built-in 3G wireless router wired wireless and other access methods
(2) Easy to set strong universal repeater function
3. 1000MW be adjusted signal strength, the power can be adjusted according to the size needed
4.QOS set each computer to download and upload broadband, no longer afraid of others affect your Internet speed up!
5 . supports the wireless MAC address black list, white list binding, which the stage on which platform you want!
6 built-in firewall, support for domain filtering and MAC address filtering
7 a key encryption (WPS)
8 A variety of encryption, WEP WPA WPA2, etc., to prevent unauthorized use of your broadband
9 with 4 a WAN wired interface : You can access several wireless at the same time, access to 4 sets of wired Oh!
3g usb modem ที่ใช้งานได้ กับ nhp-628 ( ใช้ได้ทั้ง 3g ระบบ WCDMA + EVDO + TSMC) ใช้งานได้กับ 3g ทุกค่าย ในเมืองไทย


11N High Power 1000mW USB 2.4GHz 150Mbps 802.11b/g/n 3G Wireless WLAN Router/AP/WDS/Repeater NHP-628 3G router
- Model: NHP-628
- IEEE 802.11 b/g/n Wifi/WLAN/Wireless network compliant
- Frequency: 2.4GHz
- Support all 3G standards
- Transmission rate up to 150Mbps
- Coverage area: within 1500m
- Built-in firewall
- Built-in DHCP server, setting IP address automatically
- Support 3G / WiFi / broadband Internet access
- High power adjustable 1000mW
- Support working modes: Wireless Router/AP/WDS wireless bridge/Repeater
- Support MAC address filtering
- Support wireless security, 64/128/152 bit WEP encryption & WPA-PSK/WPA2-PSK,WPA/WPA2 security
- Support QSS quick setting
- Interfaces: WAN + 4*LAN + USB + 2*ANT
- Package included:
- 1 x Wireless Router
- 1 x AC 100~240V Power adapter (2-flat-pin plug)
- 1 x LAN cable
- 2 x 6DPI antenna
- 1 x English/Chinese manual

รับประกันสินค้า นาน 6 เดือน
ราคาสินค้า ได้รวมภาษีมูลค่าเพิ่ม 7%