Wireless-N Wifi Repeater 802.11N Network Router Range Expander 300Mbps

WN560N2( Winstar OEM)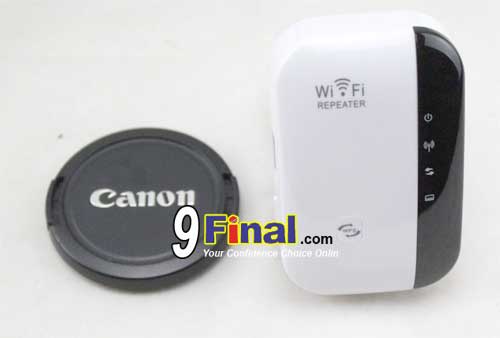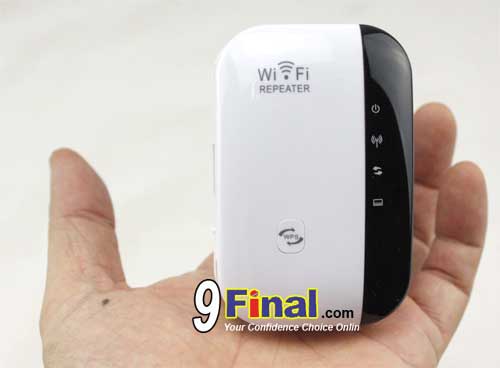 Improve wireless coverage in all WLAN networks.
Support Wireless Repeater Mode and Standard AP Mode.
WLAN 802.11n for wireless high-speed access, downwards compatible with 802.11g(54Mbit/s) and 802.11b(11Mbit/s) standard.
Provides up to 300Mbps transmission rates.
Support 2.4GHz WLAN networks.
Maximum WLAN security with WPA2, WPA and WEP(128/64).
Software wizard for simple setup.
Antennas integrated.
System requirements:
WLAN access point/client according to IEEE 802.11n/g/b.
110 ~ 230-volt socket.
The WLAN client must support at least the WPA encryption standard.
WLAN access point and the WLAN client with automatic IP address assignment(DHCP).
Forwarding of IPv4-based protocols/Address Resolution Protocol.
The network name (SSID) of the WLAN access point must be set to "visible".


Wireless
Standard IEEE802.11b, IEEE 802.11g, IEEE 802.11n
Modulation 802.11b: DSSS / BPSK / QPSK / CCK
802.11g: OFDM / DSSS / BPSK / QPSK / CCK
802.11n: OFDM / DSSS / BPSK / QPSK / CCK
Speed 802.11b: 11Mbps
802.11g: 54Mbps
802.11n: 300Mbps
Channel 11: (Ch.1-11) - USA
13: (Ch.1-13) – Europe
14: (Ch.1-14) – Japan
Frequency band 2.412~2.462GHz –USA
2.412~2.472GHz –Europe ETSI
2.412~2.484GHz –Japan
Power 802.11b: 17dBm ± 1.5 dBm
802.11g: 14dBm ± 1.5 dBm
802.11n: 14dBm ± 1.5 dBm
Sensitivity 802.11b: -83dBm /802.11g: -70dBm / 802.11n: -68dBm
Antenna 2 x 3dBi Integrated Antennas
Distance Outdoors 300m, Indoor 100m (According to the actual environment change)
Security 64/128-bit WEP, AES, TKIP, WPA, WPA2, 802.1x, WPA-PSK, WPA2-PSK, MAC, WDS
Software
Standard Version RFC768 User Datagram Protocol(UDP)
RFC791 Internet Protocol(IP)
RFC792 Internet Control Message Protocol
RFC793 Transmission Control Protocol(TCP)
bandwidth: 20MHz, 40MHz, Automatic(option)
Wireless Mode: 11n only, 11 b/g/n mixed, 11 b/g mixed, 11g only, 11b only(option)
Mode AP Mode / Repeater Mode
Wireless Security Wireless MAC address Screening
Wireless security function switch
64/128/152-bit WEP
WPA-PSK/WPA2-PSK, WPA/WPA2
Function IP bandwidth control (Router mode support)
DNS Relay (Router mode support)
VPN Pass-through (Router mode support)
Static Router (Router mode support)
DHCP Server (Router mode support)
DHCP settings Server list (Router mode support)
Static IP address allocation (Router mode support)
Security
Settings IP and MAC address binding against ARP attacks (Router mode support)
IP address Screening (Router mode support)
Name Screening (Router mode support)
MAC address Screening (Router mode support)
System Tools Traffic statistics
System Journal
Hardware
Ports 1 x RJ45 Jack
Button Reset WPS
LED 1 * LAN, 1 * WLAN, 1 * Power, 1 * WPS
Chipset RTL8196E
Flash 16Mbps
SDRAM 128Mbps
Power supply Internal DC5V / 1A
Power plug EU plug
Power consumption 2.3W
Rated voltage/ frequency /current 100-240 VAC 50/60Hz, 0.1A Max., CLASS ?
Environmental
Operating temperature 0 ~ 40 Celsius degree
Storage temperature -10 ~ 70 Celsius degree
Relative humidity 10% ~ 90% (Non Condensation)
Product information:
Color White + Black
Product size Approx. 9.5 * 8cm / 3.74 * 3.15in
Product weight Approx. 108g / 3.8oz
Package size Approx. 18 * 11.8 * 6.6cm / 7.09 * 4.65 * 2.6in
Package weight Approx. 218g / 7.68oz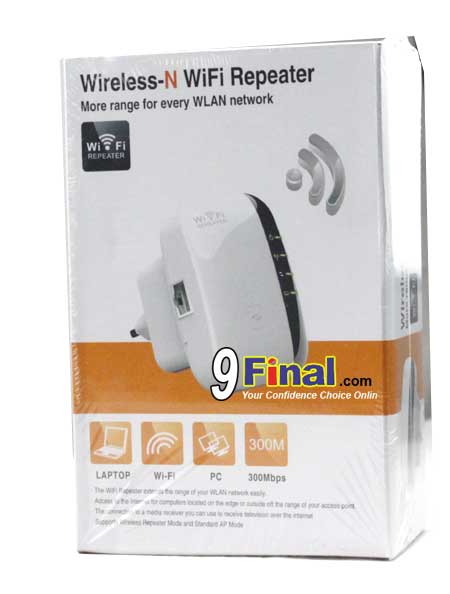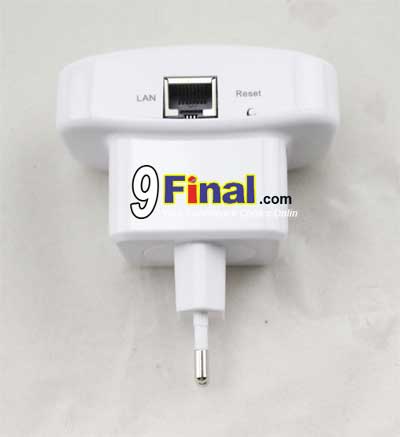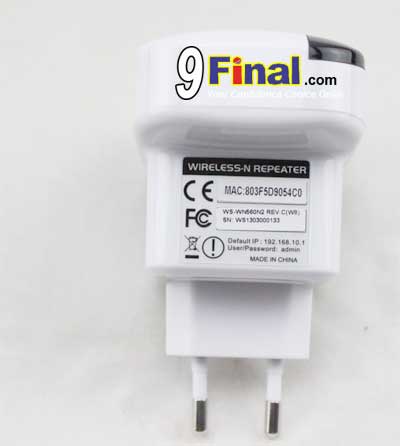 1 * Wireless-N repeater
1 * RJ-45 networking cable
1 * Quick installation guide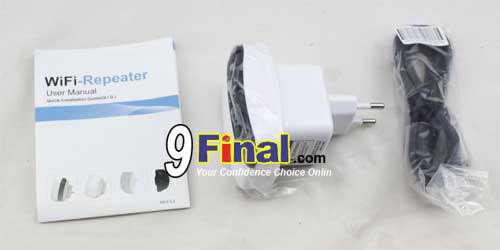 รับประกันสินค้า นาน 12 เดือน
ราคาสินค้า ได้รวมภาษีมูลค่าเพิ่ม 7%