ตอนี้ มีผู้ใช้งานอยู่ 48 แขก ออนไลน์.

Notebook Battery 4000 for Acer Aspire 3000 3001 3002 3003 3005 3008 3009 3500 5000 5510 14.8 V 4,400 Mah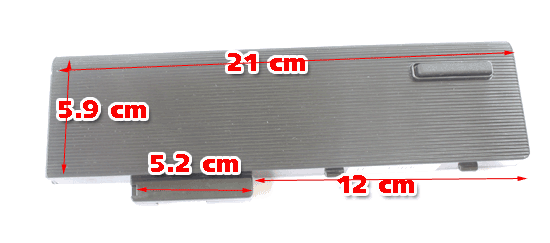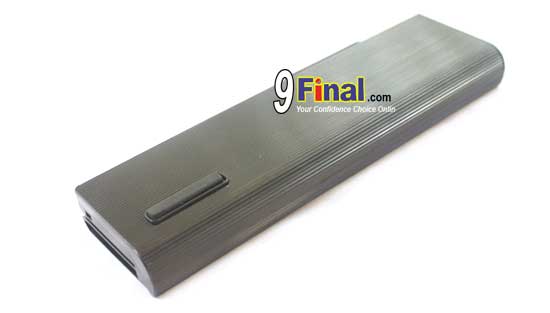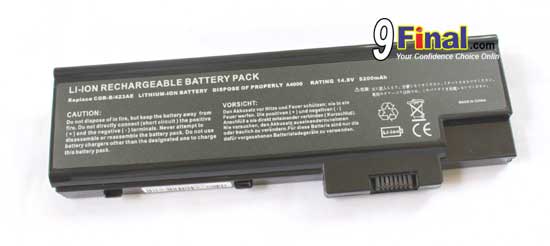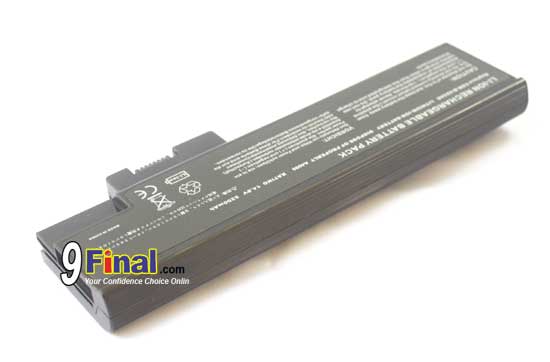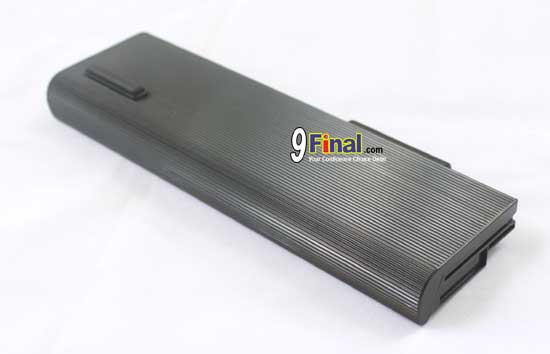 All our discount ACER CGR-B/423AE laptop batteries are brand new, high capacity, li-ion, rechargeable and made with high quality cells. The best ACER Acer Aspire 3000 3001 3002 3003 3005 3008 3009 3500 5000 5510 Series laptop batteries
Product name : Acer Aspire 3000 3001 3002 3003 3005 3008 3009 3500 5000 5510 14.8 V 4,400 Mah

Description:






Battery type:Li-ion






Color: Black






Voltage:14.8 V






Size :






Capacity:4400mAh

Uses the high quality cells.
100% Q.C. of EVERY product. Extended run time.
6 M Extended Warranty.
Excellent Service.
100% compatible with original battery.

สามารถใช้แทน Battery ของ Acer ที่มี Part no :
| | |
| --- | --- |
| 4UR18650F-1-QC192 | 4UR18650F-2-QC140 |
| 4UR18650F-2-QC141 | 916-2990 |
| 916-3020 | 916C2990 |
| 916C3020 | BT.00403.004 |
| BT.00404.004 | BT.00407.001 |
| BT.T5003.001 | BT.T5003.002 |
| BT.T5005.001 | BT.T5005.002 |
| BT.T5007.001 | BT.T5007.002 |
| CGR-B/423AE | LC.BTP03.003 |
| LC.BTP03.010 | LIP-4084QUPC |
| LIP-4084QUPC | LIP-8198QUPC |
| LIP-8198QUPC | SQU-401 |
| SY6 | |
สามารถใช้ได้กับ Notebook Acer Model ต่อไปนี้ :
ACER Aspire 3000,3002,3003,3005,3008,3009 Series
Aspire 3000LC, Aspire 3000LCi,
Aspire 3000LM, Aspire 3000LMi,
Aspire 3000WLMi, Aspire 3001LC,
Aspire 3001WLCi, Aspire 3001WLMi,
Aspire 3002LC, Aspire 3002LCi,
Aspire 3002LMi, Aspire 3002NLC,
Aspire 3002NLCi, Aspire 3002NWLCi,
Aspire 3002WLCi, Aspire 3002WLMi,
Aspire 3003LC, Aspire 3003LCi,
Aspire 3003LMi, Aspire 3003WLCi,
Aspire3003WLM, Aspire3003WLMi,
Aspire 3004WLMi, Aspire 3005LCi,
Aspire 3005WLMi ,
ACER Aspire 3500 Series
Aspire 3500WLCi, Aspire 3500WLMi,
Aspire 3502LC, Aspire 3502LCi,
Aspire 3502LMi, Aspire 3502NLCi,
Aspire 3502WLC, Aspire 3502WLCi,
Aspire 3502WLMi, Aspire 3503NWLMi,
Aspire 3503WLMi, Aspire 3503WLCi,
Aspire 3505LMi, Aspire 3505WLMi,
Aspire 3508WLMi, Aspire 3509WLMi
ACER Aspire 5000 ,5001,5002,5003,5004,5005 Series
Aspire 5000WLMi, Aspire 5001LCi,
Aspire 5001LM, Aspire 5001LMi,
Aspire 5001WLCi, Aspire 5001WLMi,
Aspire 5002LC, Aspire 5002LCi,
Aspire 5002LM, Aspire 5002LMi,
Aspire 5002NWLMi, Aspire 5002WLCi,
Aspire 5002WLM, Aspire 5002WLMi,
Aspire 5003WLCi, Aspire 5003WLMi,
Aspire 5004WLCi, Aspire 5004WLMi,
Aspire 5005WLMi
ACER Aspire 5510 ,5512 ,5512 ,5514 Series
Aspire 5512WLMi, Aspire 5513EWLM,
Aspire 5513EWLMi, Aspire 5513WLMi,
Aspire 5514WLMi

รับประกันสินค้า นาน 6 เดือน
ราคาสินค้า ได้รวมภาษีมูลค่าเพิ่ม 7%

| | |
| --- | --- |
| | เพื่อประสิทธิภาพ ในการใช้งาน Battery ได้เต็มประสิทธิภาพ กรุณา download คู่มือการใช้งานของ Battery และ กรุณาอ่านและทำความเข้าใจ ซึ่งจะทำให้อายุการใช้งานของ Battery ได้ยาวนานขึ้น พร้อมกำลังไฟ ที่เต็มประสิทธิภาพ |

How do I identify my battery?

There is usually a label on the battery. The label will have the part number, chemical construction (eg Li-Ion, NiMh), voltage and current printed on it. Please note the battery voltage is not the same as the power supplies voltage. If this information is not present the make and model of your laptop would help any sales person identify the correct battery. See image below: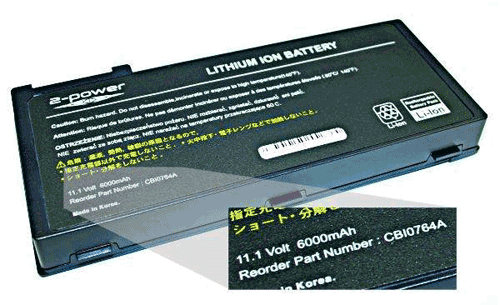 What is a battery cycle?

A battery cycle consist of one charge and one discharge
What if the Milliamp-Hour (mAh) rating is different to my original battery?

The Milliamp hour rating represents the capacity of the battery. The capacity is affected by the number of batteries in the battery pack. The capacity is increased by linking the cells in parallel. If the mAh rating is higher than the original battery, then the replacement battery will run for a longer time, if the rating is lower then the replacement battery will run for a shorter time.
How Are Batteries Rated?

There are two ratings on a battery, Voltage (V) and Milliamp-hours (mAh). Voltage is the rate at which energy is drawn from a battery. Milliamp-hours represents the capacity of the battery
My new laptop battery is not working !! What's wrong?

New batteries are usually shipped in a discharged condition and must be charged before use. It is recommended that Li-Ion and NiCd batteries receive an initial overnight charge (approximately twelve hours), whereas NiMH requires 24hrs. Refer to your computer manual for charging instructions. Rechargeable batteries should be conditioned before normal use by ensuring they are charged and then fully discharged for the first 3 to 4 charge cycles. This allows the batteries to reach their full capacity.

--> ควรอ่านคู่มือการใช้งาน battery และทำตาม จะทำให้ได้ประสิทธิภาพสูงสุด ในการใช้งาน

--> สามารถ download User Manual ได้ที่นี่
Does using the wireless network card drain a laptop battery?

Yes, wireless network cards do reduce the battery run time. It is difficult to quantify the adverse effect a wireless card has on battery run time because it varies depending on laptop model and wireless card. The operating system and the software installed with the card may have utilities for conserving battery life. See Apple's Battery Care page
Does disconnecting USB devices from my laptop, help conserve battery life?

Yes, disconnecting unused USB devices does help conserve battery life. It has also been widely reported that a flaw in Windows XP affects certain Intel based laptops to drain the battery at a faster rate than normal when a USB device is connected. More information can be found on the article, Windows USB flaw drains batteries.

What is the "Memory Effect"?


The "memory effect" can be seen in Ni-Cad and NiMH batteries. It is caused by the user continually re-charging the battery before being it has fully discharged. The battery will eventually 'forget' the unused capacity. The way to avoid the "memory effect" is to fully charge and discharge the battery at least once every month. This will ensure the battery remains healthy. Li-Ion batteries do not suffer the memory effect.

Why are some laptop batteries so expensive?

Some batteries are specific to a manufacturer or laptop model, thus enabling the manufacturer to keep the price high. Batteries specific to one manufacturer or model will be made in lower volumes which will increase the production cost. In some cases the price of the original battery is kept high to motivate buyers to buy a new laptop.
Why are some laptop batteries so cheap?

Laptop batteries are often manufactured in very large volume production runs and as a result the cost saving is directly passed onto the end user.
When not using my notebook for long periods of time, should I leave the battery in the laptop?

It is not advisable to leave the battery in the laptop for extended periods of inactivity. Whilst in the laptop the battery will slowly discharge. If the battery is allowed to completely discharge the laptop may not recognise it when it is next booted up. DO NOT fully charge your battery prior storage. It should be charged to between 40 -50% of it's capacity. During storage check the battery every 3-4 weeks to prevent total self discharge. If the battery is allowed to totally self-discharge the notebook may not recognise the battery when the laptop next is booted up.
Can I store batteries in the refrigerator?

Yes, but the battery must be protected from moisture which will cause internal corrosion. It must be kept in an airtight container. This method of storage is only suitable when the battery needs to be stored for long periods without use. The low temperature slows down the rate of discharge. Once removed from the refrigerator, the battery must be allowed to warm up to room temperature before use. Storing the laptop battery in the freezer is not recommended.
What is the difference between original and compatible batteries?

Original batteries are manufactured by companies like IBM and Sony and also by an Original Equipment Manufacturer(OEM), who manufacture under licence from companies like IBM and Sony. Compatible batteries are solely made by 3rd party manufacturers. These products are not produced under licence and cannot be labelled or branded as Sony, IBM, Toshiba etc. The physical attributes are the same between the two types of batteries, but the labelling will be different.
The colour of my new battery is different to the original, Is this a problem?

No, as long as it is the right part and the ratings are correct. Different manufacturers use various materials and processes and as a result colour may vary.

หมายเหตุ : ความหมายของคำต่างๆ

OEM
OEM stands for Original Equipment Manufacturer. A third party manufacturer producing goods under licence from companies like Sony, Toshiba etc.

Compatible
An alternative to the original supplied. Compatible batteries have similar capacity and ratings to the original but are cheaper in price.
---
Battery ที่จำหน่ายทุกตัว นอกจากขบวนการผลิต ที่มีคุณภาพจากโรงงานแล้ว ก่อนส่งมอบลูกค้า เราได้ตรวจสอบอีกครั้ง ด้วยเครื่องมือวัด Battery ที่ทันสมัย ที่แรก และที่เดียวในประเทศไทย ที่มีเครื่องมือแบบนี้ คุณจึงมั่นใจได้ ในเรื่องคุณภาพ
( ทดสอบ ทุกตัว ก่อนการจำหน่าย หรือ จัดส่งให้กับลูกค้า)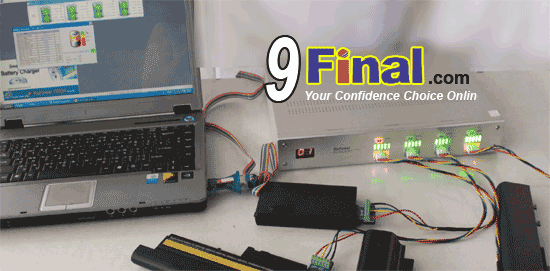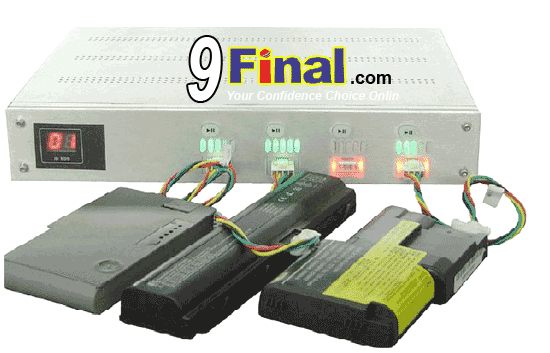 1. ทดสอบ การ Charge และ การ Discharge ประจุในตัว Battery

2. ทดสอบ Cell ของ battery กับความสามารถในการเก็บประจุ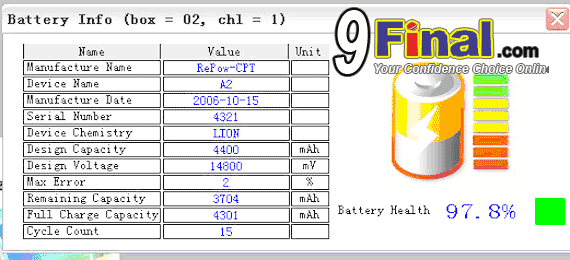 3. ทดสอบความใหม่ ของ Battery ไม่เกิน 6 เดือน เพราะว่า ตัว Cell battery ถ้าเก่าแล้ว ประสิทธิภาพ จะลดลง
---
1. High Quality Product , Competitive Price
เป็น โรงงาน ที่ได้รับมาตราฐาน จาก Rohs, CE , ISO, FCC, EMC และ ISO 9001:2008
2. Innovative Design
มีสินค้าใหม่ ออกสู่ตลาด อย่างน้อย 8 รุ่นต่อเดือน
3. Battery ทุกก้อน ก่อนส่งมาอบได้ถูกตรวจสอบว่า สามารถใช้งานได้ ด้วยเครื่องมืออันทันสมัย ว่าจะมีไฟเต็ม และ สามารถใช้งานได้ต่อเนื่องเป็นเวลานาน เทียบเท่า Battery ของแท้ จากยี่ห้อต่างๆ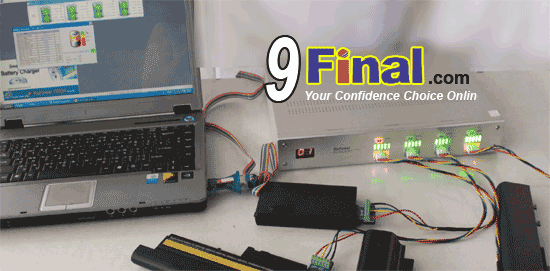 4. บริการ หลังกาาขายจาก PC Resource ซึ่งเปิดดำเนินการ ในธุรกิจคอมพิวเตอร์ มากกว่า 20 ปี ด้วยทุนจดทะเบียนกว่า 25 ล้านบาท รับประกัน สินค้านาน 6 เดือน เสียเปลี่ยนให้ใหม่
5. มีสินค้าให้เลือกหลากหลาย ทุกยี่ห้อ ทุกรุ่นในตลาด ไม่ว่าจะเป็น HP, DELL, TOSHIBA, ACER, ASUS , IBM , FUJITSU , LENOVO , SONY , Apple Laptop , Compaq , Gateways และ oem brand อื่นๆ
6. Battery ส่วนใหญ๋ จะเป็น Battery ที่ผลิตขึ้นใหม่ ไม่เกิน 6 เดือน สามารถตรวจสอบได้ ด้วยเครื่องมือวัด Battery เพราะว่า ถ้ามีการเก็บ stock battery นานๆ คุณภาพของ battery จะเสื่อม

7. Genuine Materails , Careful Craft , Reliable and Stable Quality
วัตถุดิบในการผลิต ก็เป็นอีกส่วนสำคัญ ในการกำหนดคุณภาพของ Battery ทางโรงงาน ได้เลือกใช้ Battery ที่มีการสั่งนำเข้าวัตถุดิบคุณภาพมาจาก ญี่ปุ่น เกาหลี เช่น panasonic , samsung และ BAK ซึ่งเป็น cell battery จากโรงงานที่ดีที่สุดในจีน และมีการใช้ ไอซีจาก TI ( Texas Instrument) จาก USA (PCM : TI 20Z70, 20Z80) ซึ่งจะทำให้คุณภาพของ Battery เทียบเท่าได้กับ battery ที่มาจากโรงงานโดยตรง
---

โรงงานผลิตแบตเตอรี่ Greenway เป็น โรงงาน ผู้เชียวชาญในเรื่อง Battery ส่งออกตลาดโลก ได้เปิดดำเนินการมากว่า 10 ปี พร้อมทีมงานที่มีประสบการณ์ ในวงการแบตเตอรี่
พนักงานในโรงงาน Greenway มีทีมงาน R&D ( Research and Developement) ที่มีประสบการณ์ทำงานในโรงงาน Battery มามากกว่า 13 ปี และพนักงาน ในโรงงาน มากกว่า 35.5% จบการศึกษา ระดับปริญญาตรี
Standardization & Modernization
To Keep High Quality always
โรงงาน Greenway ได้ผ่านการรับรองมาตราฐาน ISO9001:2008 ซึ่งเป็นระบบควบคุมคุณภาพ ที่เชื่อโลกให้การเชื่อถือ และ ให้เกิดความเชื่อมั่นว่า Battery ทุกก้อน ที่ออกจากโรงงาน จะเป็น Battery ที่มีคุณาภาพมาตราฐานระดับโลก สามารถนำไปใช้งานได้อย่างมีประสิทธิภาพ ให้พลังงานให้กับ Notebook ตัวเก่งของคุณ ไม่ติดขัดในการใช้งาน
ด้วยขั้นตอนการ QC 24 ขั้นตอน ตั้งแต่การคัดเลือกคุณภาพของ Battery ที่จะมาผลิตเป็น notebook battery จนถึงขบวนการผลิต และ การส่งออก และ การตรวจสอบคุณภาพ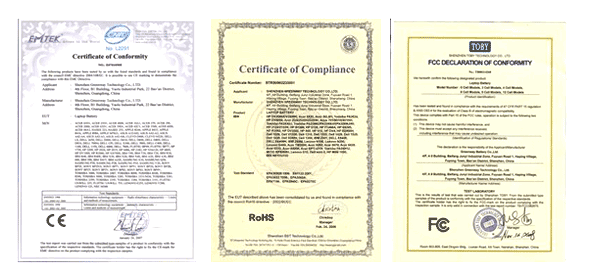 ด้านบนคือ ใบรับรองคุณภาพ มาตราฐานต่างๆ เช่น CE, FCC , RoHS
Benefit More from our
Technology & Facility
สินค้าจะดีได้ ก็ต้องใช้เทคโนโลยี่ รวมถึงอุปกรณ์อำนวยความสะดวก อื่นๆ ในโรงงาน เพื่อให้การผลิตได้สินค้าที่มีคุณภาพ และ การผลิตไม่ติดขัด พร้อมทั้ง ต้องมีขบวนการในการควบคุมคุณภาพของสินค้าในแต่ละขั้นตอน การผลิต
นี่คือ ขบวนการในการผลิตสินค้า Battery notebook จากโรงงาน Greenway ซึ่งจะมีขั้นตอนต่างๆ ในการผลิตและทดสอบ เพื่อให้สินค้ามีคุณภาพ ตามมาตราฐานคุณภาพ ISO9001:2008
| | | |
| --- | --- | --- |
| Mash Welde | Point Soldering Machine | Sub Capacity Cabinet |
| | SMT Production Line | Lamination Machine |
| Vibration Test Machine | Nubula Tester | Dispencer |
| GGC | Aging Cabinet | Reflow Oven |
โรงงาน GreenWay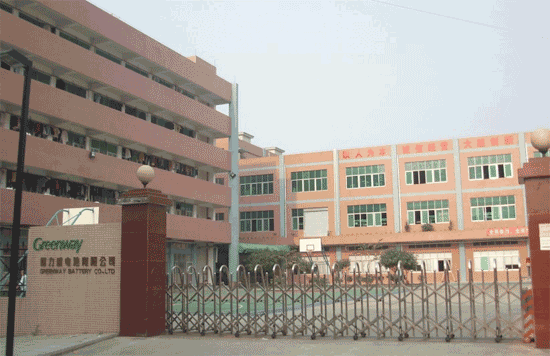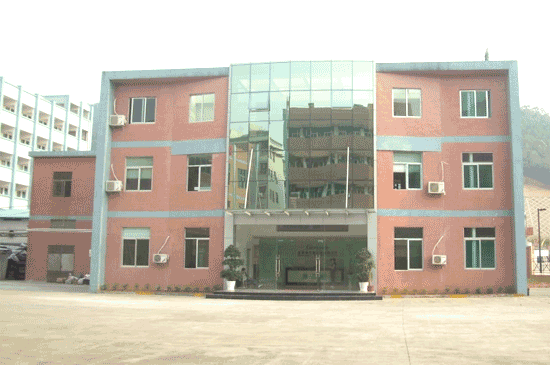 พร้อมด้วยทีมงานคนรุ่นใหม่ ไฟแรงในการทำการผลิต และให้บริการ

Team Work คือ พลังงานที่สำคัญ ในการผลิตสินค้าให้มีคุณภาพ และ ลูกค้าพึงพอใจ

---
บทความน่ารู้ เกียวกับ Battery Notebook
สินค้านี้ ได้ถูกบันทึก ลงในฐานข้อมูล เมื่อวันที่ จันทร์ 16 มกราคม, 2012.
ปรับปรุงข้อมูลสินค้า ครั้งสุดท้าย เมื่อวันที่ พฤหัสบดี 24 เมษายน, 2014

Fatal error: Cannot instantiate non-existent class: faq_category_tree in /home/pcresour/public_html/computer/includes/modules/sideboxes/faq_categories.php on line 23