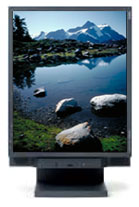 The Finest LCD 21-Inch Display In The World!
Razor-Sharp UXGA Resolution, Brilliant Color Depth.
The high-performance 21" NEC MultiSync LCD2180UX, a flat-panel monitor that boasts a multitude of advanced technologies, delivers the ultimate visual experience to your desktop or other application. This model's ultra-thin-frame design, along with its advanced functionality and productivity-enhancing technologies, could easily make it the most intelligent visual display solution to date.

Ultra-thin frame design, pro-level screen performance and advanced technologies for high-end users. The NEC MultiSync LCD 80 Series, comprised of the 21" NEC MultiSync LCD2180UX, has not only revolutionized the way flat-panel monitors are engineered and designed, but how they can be used. With it's multitude of leading-edge capabilities, combined with groundbreaking minimalist design, this monitor can easily be considered the most intelligent visual display solutions to date.

This model is ideal for a variety of environments, most notably financial trading floors, call centers, graphic arts/desktop publishing and public display arenas, as well as medical office information systems and soft-copy clinical viewing, including PACS. Not only is it monitor smart investments for you and your company, it's advanced functionality and productivity-enhancing technologies illustrate it's unique brilliance. A bold statement in design. The MultiSync LCD 80 Series' cabinet design was developed to maximize adaptability and user-friendliness. What resulted was one of the thinnest frames available.

Aside from freeing up more horizontal and vertical desktop space for multi-monitor applications, the virtually imperceptible bezel lets you focus more on your ideas instead of the distracting plastic surrounding the screen. Also, in addition to a black cabinet model, a brushed aluminum bezel (featured with white cabinet models) enables the monitors to fit in with the new generation of modern office environments. Gain greater control.

Features

Ultra-thin-frame design creates more space

Crystal-clear 1600 x 1200 native resolution

NaViSet™ interactive display settings control

GammaComp™ produces smooth color tones

TileMatrix™ allows for video walls

CableComp™ ensures sharp image reproduction

Ambix+™ technology provides three video inputs

Height-adjustable stand adds flexibility

Achieve consistent, long-distance signals. You can now realize the advantages of long monitor cable lengths without the difficulties and costs normally associated with this type of configuration. In environments such as trading floors and call centers, longer cables enable systems to be centrally located in control rooms far away from users (up to 326 feet/100 meters), allowing monitor upgrades, service and repairs to be accomplished without interrupting the work environment.

Historically, these longer monitor cable configurations tended to have limitations, including weakened signals, which resulted in blurred images. Inconsistent red, green and blue cable lengths were also common. This produced uneven signals, thereby drastically reducing display quality.

The MultiSync LCD 80 Series' CableComp™, compatible with all analog connections, solves these dilemmas by using a digitized signal delay circuit to automatically compensate for each red, green and blue cable's length and video signal delay, ensuring sharp image reproduction. CableComp also boosts the video signal to prevent blurred images without the need for costly repeaters.

Wide compatibility for today and tomorrow. Ambix+™ technology provides the widest range of computer video compatibilities between analog and digital systems by allowing the same monitor to work seamlessly in either environment. The DVI-I connector provides digital or analog input, the DVI-D connector provides digital-only input, and a third input is provided with a traditional 15-pin VGA connector, which allows for legacy analog-only connection. This tripleinterface architecture provides a number of single and dual-input configurations.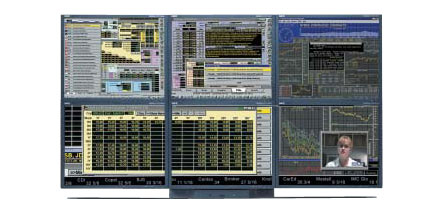 Hassle-free screen performance. With Advanced No Touch Auto Adjust™, MultiSync LCD 80 Series monitors not only provide for an optimal image upon initial power-on but can also detect closed signal changes even if they run under the same resolution and refresh rate, as is the case with external signal switch boxes. This results in a more stable image after switching.

Enhanced pro-level screen performance. With XtraView+™ wide-angle viewing technology, you can enjoy flexible horizontal and vertical viewing angles up to 176° (88° up, down, left and right) with reduced color shift and less glare, reflection and distortion. Less off-angle color shift results in less image degradation and, in environments where data may be viewed by multiple end-users, this enhanced feature proves to be a winning solution.

The MultiSync LCD2180UX unveils TileMatrix™, which allows you to build video walls of various configurations. This built-in feature is controlled through the Advanced OSM and, with the use of a simple video amplifier, saves you time and money compared to other connection solutions. With the ability to utilize up to 25 monitors (5 x 5 configuration) that display a shared image, you can build an impressive video wall for various applications, including advertising and tradeshows.

Intelligent power management ensures a smart investment. Using approximately 50% less power and emitting less heat than comparable CRT monitors, the MultiSync LCD 80 Series allows you to conserve energy and lower your total cost of ownership. Many technologies contribute to these savings, including the automatic power-off timer, which can be set from 1-24 hours via the on-screen display. If users forget to turn off their monitors, this function will turn them off automatically after a user-determined period of time, thereby reducing electrical power costs. The highefficiency backlight, which provides the longest lifetimes of any NEC LCD monitor family, reduces not only the power consumption but also the heat generation at the front of the screen.

Specifications

Size: 21.3-inch (21.3" viewable image size)

Display: active matrix, thin film transistor (TFT), liquid crystal display(LCD)

Pixels: 0.27 mm pixel pitch

Brightness: 250 cd/m2 white luminance typical

Contrast Ratio: 500:1 contrast ratio - typical

Response Time: 20ms response time - typical

Power Consumption: (typical)
ON: 52W
Power Savings Mode: <1W

Power Management: VESA DPMS

Resolutions Supported:
Native (recommended) resolution:
1600 x 1200 @ 60 Hz
Resolutions Supported (Analog):
720 x 400* @ 70 Hz to 85 Hz
640 x 480 @ 60 Hz to 85 Hz
800 x 600* @ 56 Hz to 85 Hz
832 x 624* @ 75 Hz
1024 x 768 @ 60 Hz to 85 Hz
1280 x 1024 @ 60 Hz to 85 Hz
1600 x 1200 @ 60 Hz
Resolutions Supported (Digital):
640 x 400* @ 70 Hz to 85 Hz
720 x 400* @ 70 Hz to 85 Hz
640 x 480 @ 60 Hz to 85 Hz
800 x 600* @ 56 Hz to 85 Hz
832 x 624* @ 75 Hz
1024 x 768 @ 60 Hz to 85 Hz
1280 x 1024 @ 60 Hz to 85 Hz
1600 x 1200 @ 60 Hz
NOTE: Some systems may not support all modes listed.

Signal Cable:
(1) DVI-A to DVI-D (Supplied)
(1) DVI-D to DVI-D (Supplied)

Storage Altitude: 0 to 44,600 Feet

Storage Humidity Range: 10% to 85%

Storage Temperature: +14° F to +140° F / -10° C to +60° C

Sync:
Separate sync: TTL level (Positive/Negative)
Composite sync: TTL level (Positive/Negative)
Sync on Green: Video 0.3 Vp-p Negative (0.7Vp-p postive)

Synchronization Range (Automatically):
Horizontal: 31.5 kHz to 91.1 kHz
Vertical: 50.0 Hz to 85.0 Hz

VESA Hole Configuration Spec: 100 x 100mm

Voltage Rating: Universal 100 (110-240V) 50-60Hz Internal

Dimensions: 18.4"(W) x 15.4"(H) x 7.9"(D)

Weight: Net (with stand): 23.4 lbs. / 11 kg

What is UXGA?

UXGA (Ultra Extended Graphics Array) is a display mode in which the resolution is 1600 pixels horizontally by 1200 pixels vertically (1600 x 1200). This amounts to a total of 1,920,000 pixels on the screen.

A UXGA display might be preferred by computer users who want or need fine detail. UXGA displays also allow the user to specifiy up to four 800 x 600-pixel images at a time, with reasonable detail in each. An example of such an application is the reception of a television (TV) program while browsing the Web, and at the same time working in a word processor and a vector graphics program. Scientists and engineers can make use of the high resolution and large screen size when working with computer-aided graphics (CAD) programs, especially three-dimensional (3D) rendering.

A UXGA display provides 6.25 times as many pixels as a 640 x 480 display, four times as many pixels as an 800 x 600 display, and approximately 2.44 times as many pixels as a 1024 x 768 display. Modest-sized liquid crystal display (LCD) panels with the UXGA specification offer a level of detail comparable to print on paper. The main disadvantage of this type of display is the high cost compared with displays having less resolution.
MultiSync LCD2180UX™
(monitor with tilt/swivel/pivot/adjustable stand)

Power Cord

Video Signal Cable (15-pin mini D-SUB male to DVI-A)

Video Signal Cable (DVI-D to DVI-D cable)

User's Manual

Cable Cover